All important information about your festival visit at one glance.
Your Industry Badge is your access to everything at the festival. If you have a private or business address in Switzerland, we have sent you the badge and it should be in your mailbox by 26 September.
ATTENTION: This is only valid if the accreditation has been paid by 20 September.
If this is not the case, you can come and collect your personal badge from the Industry Office at the Festival Centre from the start of the festival (28 September).
The Industry and Guest Office is your contact point for questions and other problems during the festival. It is located on Sechseläutenplatz next to the Festvialzentrum (No. 7).
Industry Desk - Opening hours
28.9. - 30.9.23: 11:00 - 21:00
1.10. - 8.10.23: 11:00 - 14:00
Official Guest Desk - Opening hours
28.9. - 30.9.23: 11:00 - 13:00
1.10. - 8.10.23: 14:00 - 16:00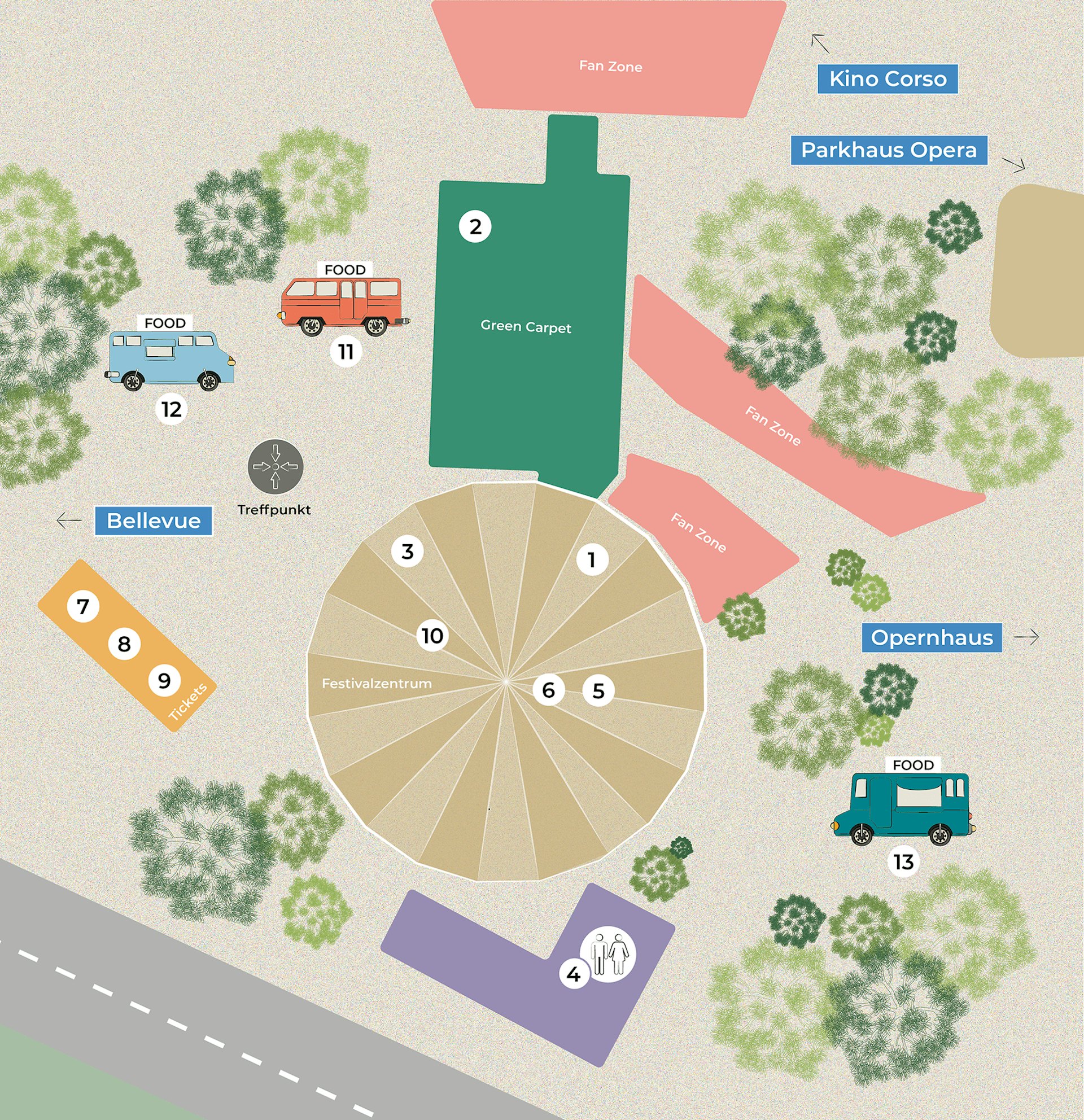 Tickets for regular screenings (without Premium Screenings and Golden Icon Award) and the ZFF Masters can be booked online with your personal code on the industry badge. Industry tickets can only be booked one day prior to the screening.
Important information about online booking:
Tickets can be purchased from 28 September 2023. A special contingent of tickets per screening is reserved for industry accredited persons.
Tickets can be booked for the same or the following day of the screening. Only 1 ticket per screening can be purchased.
If the contingent is fully booked, it is possible 1h before the start of the film to book a seat from the remaining free of charge...
Tickets are personal and non-transferable. You will be asked to show your industry badge and ticket at the entrance.
The Industry Screenings are exclusive film screenings from the official festival programme for the accredited industry and press. They are accessible with the personal Industry Badge and without an extra ticket.
More information and screening schedule
Who is Who and Cinando Market Environment
This year, the Who's Who is available via the Cinando Market Environment. There you will find the list of industry representatives and other important information.
The login will be sent to you personally by Cinando (please also check your spam account). In case of a late accreditation, the activation may take a few days.
ZFF Video Library with Festival Scope
During and until one week after the ZFF, your Industry accreditation gives you the opportunity to watch many films from the official programme online. The ZFF Video Library is accessible via Festival Scope and will be activated after you have received your accreditation.
All our Cinemas and Industry Locations:
Our Cinemas:
blue Cinema Corso: Theaterstrasse 10, 8001 Zurich
Arthous Le Paris: Gottfried-Keller-Strasse 7, 8001 Zurich
Arthouse Piccadilly: Mühlebachstrasse 2, 8008 Zurich
ARENA Cinemas Sihlcity: Kalanderplatz 8, 8045 Zurich
Frame: Lagerstrasse 104, 8004 Zurich
Kongresshaus Zürich: Claridenstrasse 5, 8002 Zurich
Our Industry Locations:
Festival Centre: Sechseläutenplatz, 8001 Zürich
NZZ Festival Lounge: Falkenstrasse 11, 8008 Zürich
NZZ SkyLounge: Falkenstrasse 11, 8008 Zürich
Zunfthaus Zimmerleuten: Limmatquai 40, 8001 Zürich
Frame Lounge: Lagerstrasse 104, 8004 Zurich
Frame Orbit: Lagerstrasse 104, 8004 Zurich
Publicis: Stadelhoferstrasse 25, 8001 Zürich
Photobastei: Sihlquai 125, 8005 Zürich
Kunsthaus Bar: Heimplatz 5, 8001 Zürich
Tonhalle Zürich: Claridenstrasse 7, 8002 Zürich
The Dolder Grand: Kurhausstrasse 65, 8032 Zürich
Amboss Rampe: Zollstrasse 80, 8005 Zürich
Collana: Sechseläutenplatz, 8001 Zürich
Festival Ship: Bürkliplatz, 8001 Zürich
Subscribe to our Industry Newsletter and hear from us regularly...